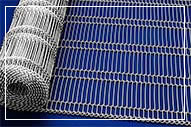 Flat-Flex XT offers you an alternative to balanced-weave belts for medium-duty processing applications. Flat-Flex XT has lower belt mass than balanced weave belting styles which results in lower power consumption, faster processes, and more product thru-put.
The strength of the Flat-Flex XT comes from the "Z-bend" joints in the wire mesh. As a rule, the greater the number of joints across the width of the belt, the stronger the belt is.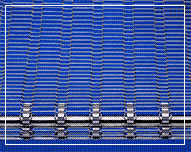 This unique design better distributes the operating stresses among the belt joints for less severe "cyclic loading" or metal fatigue.